Reviews: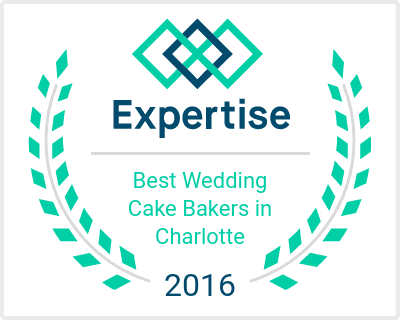 Southern Style Weddings:

American Cake Decorating Magazine:

Thank You Notes:
"My husband and I booked Pam's Place Cake Art for our Wedding Cakes after a referral from a previous customer of Pam's. Our wedding took place in Charlotte, June 23, 2012. We loved her different flavored pound cakes. Our bridal cake and grooms cake turned out perfect! The bridal cake was literally an original piece of cake art. The little jewels on the cake was designed and created according to the jewels on my dress. The orchid flower petals were beautiful! Everything on the cake was edible with the exception of the monogram. On another note, my husband is a fan of "Call of Duty" and she did an exceptional job of mimicking the graphics of the "Call of Duty Black Ops" game. My husband loved it! It was lovely and we were told by many guests that the cake was delicious. We picked out three different flavors, strawberry, almond, and coconut. Every tier cake was yummy!! I definitely would recommend Pam's cake! I enjoyed the design and taste of her cakes so much that she is designing our first child baby shower cake now in 2014. Save yourself the time and just go with Pam's Place Cake Art. You won't be disappointed." - The B Family
"Dear Pam,
I want to thank you for the excellent cake you made for my son's graduation. When I described my idea of how I wanted it decorated, you not only did what I asked, but executed it above and beyond. It not only looked great, but the almond cake was delicious. I will be highly recommending you to all my friends and family.
Sincerely,
Beth M."
"Dearest Pam,
Thank you so much for making my wedding cake dream a reality. It was superb! You truly are gifted!"
Regards,
The F Family"
"Dear Pam,
Thank you so much for the beautiful job that you did on our wedding cake. It was exactly what I envisioned. the cake was delicious and the decoration was perfect. We got tons of compliments on it. We sincerely appreciate all your hard work.
Beth W"
"Dear Pam,
Thank you for the wonderful wedding cake and coconut cake you made for my daughter Gabrielle's wedding.
Mirtha L"
"Pam,
Thanks for taking time to meet with Hillary and me last week to discuss wedding cakes. We had fun!! You have such amazing cake ideas. We are looking forward to "that final moment" of cake and wedding.
Love,
Jules"
"Dear Pam,
Here is a big thank you for making the best baby shower ckae EVER! It was so pretty and the detail was amazing. I especially loved how it sparkled and of course it tasted great. Everyone loved it. Thankfully there were some left over and I got to enjoy it for a couple of days!
Love,
Brandie, Chris & Ella"
"Hey Pam!
Thank you so much for the amazing cake! It turned out better than we could have imagined it!
Thanks again!
The L Family"
"Pamela
Wow! What a beautiful job! Thanks so much for all the time and effort you put into our wonderful celebration. We enjoyed reminiscing with you. Thank your husband for lettins us have you for a while.
Love you much,
Dalton and Alene"
"Pam,
Just wanted to say thanks again for your part in making Tiffany & Bart's day so special. All the cakes were wonderful. The country club said that it was the best cake they had ever had. It was beautiful!
Thanks again,
Sheryl A"